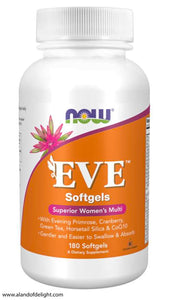 Eve™ Women's Multiple Vitamin - 180 Softgels (2 month supply)

PRODUCT DESCRIPTION
With Evening Primrose, Cranberry, Green Tea, Horsetail Silica & CoQ10
Gentler and Easier to Swallow & Absorb
These multi-vitamin softgels are easier to swallow, and are formulated for better GI tolerability.
Supplement Facts
Serving Size:
3 Softgels
Servings Per Container:
60


Amount per Serving
% Daily Value
* Percent Daily Values are based on a 2,000 calorie diet.
† Daily Value not established.
Calories
25
 
Total Fat
2 g
3%*
Protein
1 g
 
Vitamin A (100% as Beta-Carotene)
   (Betatene®)
1,500 mcg
167%
Vitamin C (from Calcium Ascorbate)
200 mg
222%
Vitamin D-3 (as Cholecalciferol)
25 mcg (1,000 IU)
125%
Vitamin E (as d-alpha Tocopherol)
100 mg
667%
Vitamin K (as Menaquinone and
   Phytonadione)
80 mcg
67%
Thiamin (Vitamin B-1) (from Thiamin HCl)
25 mg
2083%
Riboflavin (Vitamin B-2)
25 mg
1923%
Niacin (Vitamin B-3) (from Niacinamide
   and Inositol Hexanicotinate)
25 mg
156%
Vitamin B-6 (from Pyridoxine HCl and
   Pyridoxal-5-Phosphate (P-5-P))
25 mg
1471%
Folate
1,360 mcg DFE
(800 mcg folic acid)
340%
Vitamin B-12 (as Methylcobalamin)
120 mcg
5000%
Biotin
300 mcg
1000%
Pantothenic Acid (Vitamin B-5)
   (from Calcium Pantothenate)
50 mg
1000%
Choline (from Choline Bitartrate)
25 mg
5%
Calcium (from Aquamin® Seaweed
   Derived Minerals, Cal. Carbonate, Ascorbate, Pantothenate)
140 mg
11%
Iron (from Ferrous Bisglycinate)
   (Ferrochel™)
6 mg
33%
Iodine (from Potassium Iodide)
225 mcg
150%
Magnesium (from Mag. Citrate,
   Mag. Oxide and Aquamin® Seaweed Derived Minerals)
100 mg
24%
Zinc (from Zinc Bisglycinate) (TRAACS

™

)
15 mg
136%
Selenium (from Selenium Glycinate
   Complex) (Albion™)
200 mcg
364%
Copper (from Copper Bisglycinate) (TRAACS

™

)
1 mg
111%
Manganese (from Manganese Bisglycinate)
   (TRAACS

™

)
2 mg
87%
Chromium (from Chromium
   Nicotinate Glycinate) (TRAACS™)
120 mcg
343%
Molybdenum (from Molybdenum
   Glycinate) (TRAACS

™

)
75 mcg
167%
Potassium (from Potassium Chloride)
25 mg
< 1%
Evening Primrose Oil
   (Oenothera biennis) (Seed)
500 mg
†
Cranberry Concentrate
   (Vaccinium macrocarpon) (Fruit)
100 mg
†
Horsetail Extract (Equisetum arvense)
   (Aerial Parts) (min. 8% Silica)
50 mg
†
Alpha Lipoic Acid
25 mg
†
Grape Seed Extract (Vitis vinifera)
25 mg
†
Green Tea Extract (Camellia sinensis) (Leaf)
25 mg
†
Inositol
25 mg
†
CoQ10 (as Ubiquinone)
10 mg
†
Lycopene (LYC-O-MATO®)
   (from Tomato Extract)
500 mcg
†
Lutein (FloraGLO®)
   (from Marigold Flowers)
500 mcg
†
Other Ingredients:  Softgel Capsule [bovine gelatin (BSE-free), glycerin, water, carob], Flax Seed Oil, Soy Lecithin and Beeswax.
Not manufactured with wheat, gluten, milk, egg, fish or shellfish ingredients. Produced in a GMP facility that processes other ingredients containing these allergens.
Caution: For adults only. Consult physician if pregnant/nursing, taking medication, or have a medical condition. Keep out of reach of children.
WARNING: Accidental overdose of iron-containing products is a leading cause of fatal poisoning in children under 6. Keep this product out of reach of children. In case of accidental overdose, call a doctor or poison control center immediately.
This product contains Biotin which may interfere with some blood test results.
Albion™, Ferrochel™ and TRAACS™ are trademarks of Albion Laboratories, Inc.; Aquamin® is a registered trademark of Marigot Limited.; LYC-O-MATO® is a registered trademark of LycoRed Natural Products Ltd.; FloraGLO® is a registered trademark of Kemin Industries, Inc.; Betatene® is a registered trademark of BASF SE.