Aquaponics Made Simple

Start your own Self-Sustaining Garden!
Aquaponics Made Simple
Start your own Self-Sustaining Garden!

A Land Of Delight Nursery
There's no time like the present! Get your fruit trees now while suppliest last. We have many to choose from: Citrus, Mango, Avocado, Tropical & much more! We also specialize in the Most Amazing & Abundant Producing Dwarf Selections! Now everyone can GROW; space is no longer an obstacle. Let us help you today!Our Tree Planting Specialists can Deliver, Position, & Plant your new trees. You're on the Grow, and we are willing and able to help.  
Now is the time to pick out the best fruiting trees for your yard - it's the gift that keeps on giving for many years to come! 
Shop Now!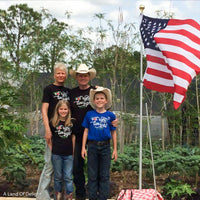 Who We Are - Our Story
A Land of Delight Natural Farm was birthed out of a passion – a passion for all-natural, fresh, and healthy foods, and self-sufficiency. Drs. Eric and Jennifer Gonyon originally intended for the farm to be for their family. They wanted their children to experience the power of seedtime and harvest and to see firsthand that food does not originate from a grocery store. Once their friends saw and heard about all the fresh produce, raw honey, and pastured eggs, they were inspired and then desired to learn how to grow their own food. Due to the interest expressed and positive response from others, the Gonyons opened the farm up to friends and to the community to help others. The concept of A Land of Delight Natural Farm was planted, watered, and then sprung forth. A Land of Delight Natural Farm offers complimentary classes regarding self-sufficiency, each Saturday at 10:30 am, at the Farmers' Market. The Farmers' Market is open every Thursday & Friday 1:30 pm-6:30 pm & Saturday from 8 am- 5 pm. Appointments Mon-Sat and curbside service available. We offer locally grown, USDA organic, and conventional produce, raw local honey, pasture-raised chickens and eggs, hundreds of varieties of grafted fruiting trees plus many other grocery items. We hope you visit us and get inspired! Be sure to bring the family to see all the farm animals and walk through the Juicing Paradise U-Pick section. You'll be glad that you did and will come back for more. All Major Credit Cards Accepted.
I just polished off the best egg I've ever had! Last night we enjoyed a tomato & cucumber salad that was amazing. It's safe to say we will be back again & again & again so thank you for having us!

Jenn L Johnson
I love A Land of Delight! The team there were so friendly and did an AMAZING job at giving us a tour around the property, which is gorgeous and so fun to see. There were so many animals and my favorite part was being able to hold the goats and see the new baby donkey. Would totally recommend checking out the farm if you're looking for a fun Saturday morning for every age! :).

Iliana Fernandez
Great place. Great family environment. Also, the honey they sell is the best honey I've ever had!

Markie Dunfee
My family loves this farm. Their classes are very informative, produce fresh, honey blends delicious and the people are friendly.

Diane Murowany
I absolutely love A Land of Delight Natural Farm. The farm is a beautiful place to visit, and the animals are amazing! From the goats to the horses, the ducks and all of the other precious animals, they are well cared for, very playful and super happy!🐷🐣🐔🐴 A great place to bring your family to spend the day and feed the animals! Also the farm is the perfect place to hold your next birthday party or a special event!!!

Tracey Scott
Cute place, reasonable prices, very kind people. Awesome visit, will definitely come again.

Bilynda Chandler
I just love a Land of Delight. That is exactly what it is.My kids have such an awesome time feeding the animals . Then we go and pick our own veggies. The service is super friendly and very respectful. I personally love the honey. I cannot get enough of this all natural Farm.

Leslie Stone
Very knowledgeable staff! The honey and produce are phenomenal. The animals are well kept and seem happy!

Jeremiah McPhearson
We always have an amazing experience at a Land of delight! The You pick selection is so fresh, you can deffinetly taste the difference from the store bought food. The animals are one of my favorite parts of the farm. They are very well taken care of which I am very impressed by! My family and I love to feed the animals!



Emma Dela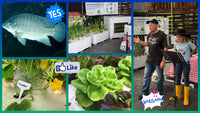 Learn How to Grow Your Own Food & Become Self-Sustainable
Enjoy a first-hand experience of the Aquaponics Made Simple System. This home system can produce lots of non-GMO, pesticide-free food for your family. Why go without when there is a practical, tried and proven method available to provide you and your household with clean, safe, delicious and nutritious food... Begin enjoying the benefits of your very own Aquaponics Made Simple Systems;
Call: 813-359-9120.
Free Aquaponics Class Saturdays at 10:30am
Limited Seating - First Come First Serve
Click Here To Register
Have Your Family Fun Day at A Land of Delight!
A Land Of Delight Farm

Come by and Meet the Animals!
Have Your Family Fun Day at A Land of Delight!
A Land Of Delight Farm
Come by and Meet the Animals!
Location
A Land of Delight Natural Farm
2514 Leaning Pine Ln
Plant City, Florida
Mon - Sat, 9am - 5pm