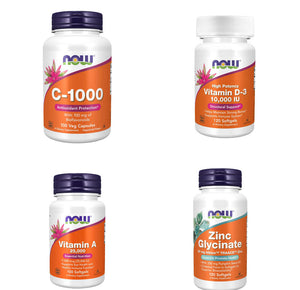 Power 4 Immunity Booster Supplement Bundle Includes: $69.95

Vitamin C-1000 - 100 Veg Capsules
PRODUCT DESCRIPTION
Antioxidant Power of Vitamin C*
With 100 mg of Bioflavonoids
Vitamin C is a water soluble nutrient well known for its vital role in the immune system.* Vitamin C is also necessary for the production of collagen (a structural protein in connective tissue) and is therefore important for skin, bone, and joint health.* Vitamin C is needed for amino acid metabolism, neurotransmitter synthesis, and the utilization of many nutrients, such as folic acid and iron.* It is also a highly effective antioxidant that can help maintain healthy tissues by neutralizing free radicals generated during normal metabolism and exposure to environmental stressors.*  This product includes bioflavonoids, which work synergistically to support vitamin C utilization.*
Natural color variation may occur in this product.
Zinc Glycinate
Immune Support
Product Description

Supports Enzyme Functions*
Zinc is essential to the normal function of many organs and systems within the body including the skeletal, immune, neurological, and endocrine systems.* Zinc is a necessary mineral co-factor for hundreds of enzymatic reactions related to protein and carbohydrate metabolism, RNA/DNA synthesis, and intercellular signaling.* It is also known to play a critical role in the body's free radical neutralizing activities and is especially helpful for maintenance of healthy aging.
Vitamin D-3 10000 IU Softgels
Product Description
Highest Potency
Helps Maintain Strong Bones*
Supports Immune System*
NOW® Vitamin D-3 softgels supply this key vitamin in a highly-absorbable liquid softgel form. Vitamin D is normally obtained from the diet or produced by the skin from the ultraviolet energy of the sun. However, it is not abundant in food. As more people avoid sun exposure, Vitamin D supplementation becomes even more necessary to ensure that your body receives an adequate supply.
Vitamin A 25,000 - 100 Softgels
Product Description
7,500 mcg (25,000 IU)
Supports Eye Health and Immune Function*
Vitamin A is essential for the maintenance of the tissues that line the internal and external surfaces of the body, including the eyes, skin, respiratory, GI and urinary tracts.*
Natural color variation may occur in products.
These statements have not been evaluated by the Food and Drug Administration.
This product is not intended to diagnose, treat, cure, or prevent any disease state.